CSL
LED Petroleum Canopy - Soffit Light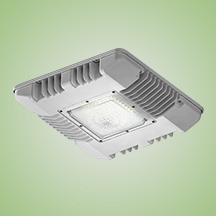 Downloads
Spec Sheet
Installation Instructions
Application
The high performance luminaire is designed for canopy/soffit applications where long life, low maintenance, and consistent color rendering is required. Areas with limited accessibility due to fixture location or where heavy traffic makes maintenance difficult are ideal applications such as retail canopies, parking garages, and petroleum dispensing canopy applications requiring Class 1 Div. 2 Hazardous Location rating.
Construction
The heavy duty housing is constructed of cast aluminum with heat dissipating fins. The optical assemblies are sealed in place using a silicone gasket for weather tight protection. Fully sealed optical compartment isolates LED PCB from driver compartment. Anti-siphon power leads prevent water entry thru conductors. Wireway is epoxy potted to seal driver compartment. Modular LED system for ease of maintenance. ETL listed for wet locations (IP65). Additional IP66 rating available upon request. Each fixture comes standard with preps to accomodate advanced wireless control, management and reporting systems for outdoor lighting.
Finish
A super durable powder coat finish. Standard colors available: Black, Bronze, Silver, White. Custom colors available upon request.
Optical System
The fixture is available with either a clear patterned, flat tempered glass lens providing a uniform and symmetrical light pattern or a molded borosilicate glass drop lens to provide a softer, wider light pattern.
Electrical System
Available in 4000K-80 CRI Neutral White, 4000K-90CRI Neutral White or 5000K-80 CRI Cool White color temperatures. Available with 100-300V 50/60 Hz IP67 power supply. LED's rated for over 50,000 hours at 25°C ambient temperature. 347V~480V input option available. 0-10V dimming. Built-in surge protection up to 10 kA. Built-in Active PFC Function >95%/Full load. LED Power Supply conforms to UL8750 standards and is IP67 rated.
Mounting
The fixture can be thru hole flush surface mounted (2-1/4" diameter deck penetration required) using the pre-set mounting holes and hardware provided with each fixture or it may be mounted via pendant. Surface Mount is suitable for use on single or dual skin canopies with minimum 22ga, 0.030" thickness. Surface mount fixture provided with gasket rear mounting surfaces and stainless steel hardware for attachment to canopy. Self-sealing screws are provided but RTV application on top canopy deck is recommended. Side conduit entry (SCE10) option is provided with a ¾"-14 NPS threaded entry and 10' of 16/3 600V STW power cord (3/4" conduit or Seal-Tite fitting provided by others). Side conduit entry is not for through-wiring. Consult factory for 5-wire power cord if 0-10V dimming is being utilized. Pendant Mount provided with factory installed bracket and hanger type J-Box and Hub for 3/4" pipe stems. Safety chain kit available. Pendant Mount configuration is provided with box plate and hub (Pendants sold separately).
Listings
ETL listed for wet locations. Meets US and Canadian safety standards. -40°C to 50°C ambient operation. RoHS Compliant. Class 1 Div 2 Hazardous Location Rating up to 50°C ambient operation. Rated for Groups A, B, C & D. Temperature Class T4A. ETL Intertek Sanitation listed conforms to NSF Std 2 for Nonfood Zone when ordered with NSF option. IP66 certified by ETL Intertek Testing for both surface and pendant mount. NOM Certified. DLC listed, see note (16) for more details.