GM2
Genesis Gen2 Medium LED Landscape Bullet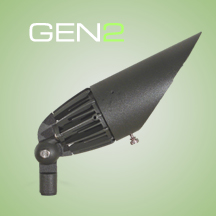 Downloads
Spec Sheet
Application
The Genesis Gen2 line of LED Lanscape Bullets are the most versatile LED fixtures on the market today. Various beam spreads and wattages allow for a customized finish to any property. The high end residential grade system was designed for 120V operation residential applcations.
Construction
The die cast aluminum heat sink has 24 heat dissipating fins to maintain a cool operating LED for maximum life. The fins are independently supported to allow for unobstructed airflow. The fixture is designed to efficiently perform in any mounting orientation.
Finish
A cathodic epoxy electrocoat primer or E-Coat is applied to all die cast aluminum components. E-coating provides the ultimate in corrosion and chemical resistance, providing superior salt spray, humidity and cyclic corrosion endurance. After the E-Coat is applied a super durable polyester powder coat finish is electrostatically applied in our state of the art paint facility. Standard colors available: Black, Bronze, OD Green, White. Custom colors available upon request.
Optical System
Techlight's proprietary OpticapSystem™ utilizes interchangeable optical lenses & reflectors to increase fixture lumen output efficiency. The system is provided with a high performance convex lenticular prismatic flood or a plano-convex spot optical lens. The flood & spot optical lenses are molded from low iron tempered glass. A 96% reflective UV stabilized injection molded reflector is included with each system. The OpticapSystem utilizes field interchangeable shields designed for optimum glare control in up or downlighting positions. The shields are field rotatable to allow adjustment of shielding. A variety of glass color filters are available to meet the designers specific color control needs.
Electrical System
NOTE: A Techlight Surge Protector must be incorporated into the LED system at the beginning of each circuit as a minimum. Failure to do so will void the system warranty. Fixture operates at 120V input voltage. Nominal open circuit current .15 amps. A 17 watt LED source provides approximately 1086 (CW) Lumens of light. System is compatible with the use of a rotary TRIAC Dimmer.
Mounting
The die cast aluminum mount is secured to the heat sink by stainless steel screws and is sealed with an integral o-ring. A ½" threaded knuckle is provided standard.
Listings
ETL listed for wet locations (IP67). Meets US and Canadian safety standards. -40°C to 40°C ambient operation.
Warranty
Techlight warrants the LED lighting Product(s) to be free from defects in material and workmanship for a period of three years for LED Light Engines and LED Power Components, from the date of shipment. Ground mounted products that are provided standard with our proprietary E-Coat pretreatment prior to the application of a powdercoat finish will carry a full 10 year finish warranty. Proper maintenance is required for full finish warranty.