ENTM
Enterprise Series Medium Designer Shoebox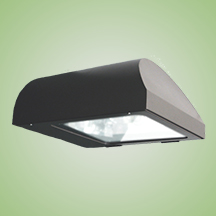 NOTE: High Pressure Sodium lamps are steadily being discontinued and becoming less common. Please consult the factory for availability of High Pressure Sodium models.
Downloads
Spec Sheet
Application
The ENTM Medium Designer Shoebox is designed for general-purpose area lighting with an aesthetically pleasing design. It is the perfect choice for lighting large open areas for safety and security. Retail applications, parking areas, or even wall mount applications for security lighting are all suitable applications for this fixture.
Construction
Constructed from architecturally shaped die cast aluminum housing. The door frame features a tool-less latch with stainless steel hardware. A silicone gasket provides a weather tight seal.
Finish
A Super Durable Polyester powder coat finish is electrostatically applied in our state of the art paint facility. Standard colors available: Black, Bronze, US Green, White. Custom colors available upon request.
Optical System
The fixture uses high efficiency faceted reflectors available in a multitude of beam patterns. Horizontal lamp positions with a flat lens are standard. The fixture is a full cut-off light fixture and is Star Light Friendly.
Electrical System
A 4KV pulse rated medium base socket is provided standard. Fixtures are available in 70W-400W Standard and Pulse-Start Metal Halide and 150W-400W High Pressure Sodium. Each fixture is available with a multi-tap CWA magnetic ballast that is pre-wired for convenience.
Mounting
Standard mounting options include 2", 8" and 10.75" Straight Arms with internal bolt guides for square and round pole mounting.