TDB2W-GEN2-120
Genesis Gen2 120V Small LED Burial Light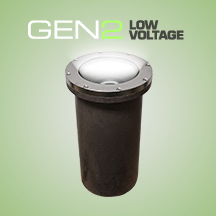 Downloads
Spec Sheet
Application
The Genesis Gen2 line of LED Lanscape Burial Lights are the most versatile LED fixtures on the market today. Various beam spreads and wattages allow for a customized finish to any property. The high end residential grade system was designed for 120V operation residential applcations.
Construction
The housing is made of compression molded fiber reinforced polyester composite. The color impregnated SR2 composite will not flake or peal. The LED light source is housed within a aluminum LED body with heat dissipating fins. An anti-siphon chamber is molded into the housing to keep internal electrical components from coming into contact with ground water. Multiple ring/guard assemblies are available for a customized finish.
Optical System
Techlight's proprietary OpticapSystem™ utilizes interchangeable optical lenses & reflectors to increase fixture lumen output efficiency. The system is provided with a high performance convex lenticular prismatic flood or a plano-convex spot optical lens. The flood & spot optical lenses are molded from low iron tempered glass. A 96% reflective UV stabilized injection molded reflector is included with each system. A variety of glass color filters are available to meet the designers specific color control needs. The composite guard rotates 360° for glare control.
Electrical System
A Techlight Surge Protector must be incorporated into the LED system at the beginning of each circuit as a minimum. Failure to do so will void the system warranty. Fixture operates at 120V input voltage. Nominal open circuit current .08 amps. A 9 watt LED source provides approximately 565 (CW) Lumens of light. System is compatible with the use of a rotary TRIAC Dimmer.
Mounting
Fixtures are designed to be in-ground burial lights and should be installed according to the installation instructions made available by Techlight. Proper drainage and substrate must be provided for water to flow freely through the well sleeve. A ¾" conduit entry is supplied into the anti-siphon chamber of the housing. Concrete pour kits available (see Accessories).
Listings
ETL listed for wet locations (IP67). Meets US and Canadian safety standards. -40°C to 40°C ambient operation.