GL2-RGBW
Color Tunable LED Bullet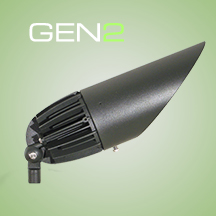 Downloads
Spec Sheet
Application
The Genesis Gen2 line of LED Lanscape Bullets are the most versatile LED fixtures on the market today. Various beam spreads and wattages allow for a customized finish to any property. The high end system was designed for 120-277V operation.
Construction
The die cast aluminum heat sink has 24 heat dissipating fins to maintain a cool operating LED for maximum life. The fins are independently supported to allow for unobstructed airflow. The fixture is designed to efficiently perform in any mounting orientation.
Finish
A cathodic epoxy electrocoat primer or E-Coat is applied to all die cast aluminum components. E-coating provides the ultimate in corrosion and chemical resistance, providing superior salt spray, humidity and cyclic corrosion endurance. After the E-Coat is applied a super durable polyester powder coat finish is electrostatically applied in our state of the art paint facility. Standard colors available: Black, Bronze, OD Green, White. Custom colors available upon request.
Optical System
High-power round LED array that mixes five colors of LEDs to deliver tunable and dimmable white light at 90+ CRI* with color consistency of <2 step MacAdam ellipse (SDCM) across a tuning range of 1600K-6000K. A molded polycarbonate compact reflector is optimized for use with the color tunable LED light source allowing the fixture to be compact. The reflector smooths out and removes any unwanted color-over-angle artifacts from the beam. A 15mm low-iron tempered glass lens protects the light source.
Electrical System
1600K-4000K or 2700K-6000K tunable color termperature range. Very high color rendering (Ra and R9) over the tunable range. Constant voltage input LED. Unique "Copy and Paste" function for fixture-to-fixture consistency. Calibration mode for color maintenance. Wireless control for dimming and CCT using the Light Commissioning Tool or use Araya Bluetooth App for IOS devices. Maximum 32W operation. Fixture will produce approximately 1800 to 2000 lumens depending on operation settings.
Mounting
The die cast aluminum mount is secured to the heat sink by stainless steel screws and is sealed with an integral o-ring. A ½" threaded knuckle is provided standard.