GEP-MV
Multi-Volt Petite 10W/500 Lumen Aluminum LED Bullet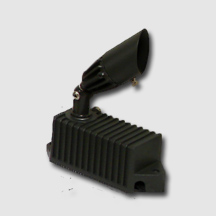 Downloads
Specification Sheet
Construction
The die cast aluminum heat sink has 12 heat dissipating fins to maintain a cool operating LED for maximum life. The fins are independently supported to allow for unobstructed airflow. The fixture is designed to efficiently perform in any mounting orientation.
Finish
A chromate pretreatment is applied prior to the finishing process to ensure lasting durability. The bullet is finished with a Super Durable Powdercoat Paint with a UV inhibitor to amke it impervious to atmospheric elements.
Optical System
A high performance convex 60° flood,15° spot, 120° wide flood and diffuse reduced glare lens assemblies provide an efficient optical assembly in conjunction with the LED light source. The Lens Ring comes standard in a black finish. The convex lenses and shields are configured to ensure water runs off and debris is washed clear of the lens in an up light application.
Electrical System
A 10 watt single source LED Board provides approximately 500 Lumens of Cool White light, 365 Lumens of Warm White, or 400 Lumens of Neutral White. Field installable dimmers are available. We also offer a variety of gels lens filters to help meet your specific lighting needs. Consult the factory for availability.
Mounting
The die cast aluminum mount is secured to the heat sink by stainless steel screws and is sealed with an integral o-ring. A ½" threaded knuckle is provided standard.